Sisteron
Sisteron dominates the Durance valley with its Vauban citadel. In 1815, during Napoleon's march to Paris, the emperor arrived in Sisteron whose mayor was a royalist. The commander Machemin and his garrison of the citadel cannot stop the troop… for lack of gunpowder.
The remarkable views in Sisteron are :
The view from the Citadel on the other side of the Durance river along the highway.
The panoramic views of the Durance valley from the top of the Citadel. 
Penitents of the Mées dominating the Durance valley
These rocky formations of the Durance valley are interesting to photograph from several angles.
Why the Penitents? This is a heap of sedimentary rocks (also called pudding) and sculpted by erosion. It rises to a hundred meters high and dominates the Durance over more than two kilometers. It gives the appearance of a possession of hooded monks.
The legend tells that around the year 800, Count Raimbaud, victorious against the Saracens, brought back from his crusades 7 splendid Saracens to lead them to his castle . Threatened with excommunication, the Count had to decide to entrust them to a monastery near Arles. As for the monks who saw them passing by, they would have had impure thoughts and were "petrified" in punishment.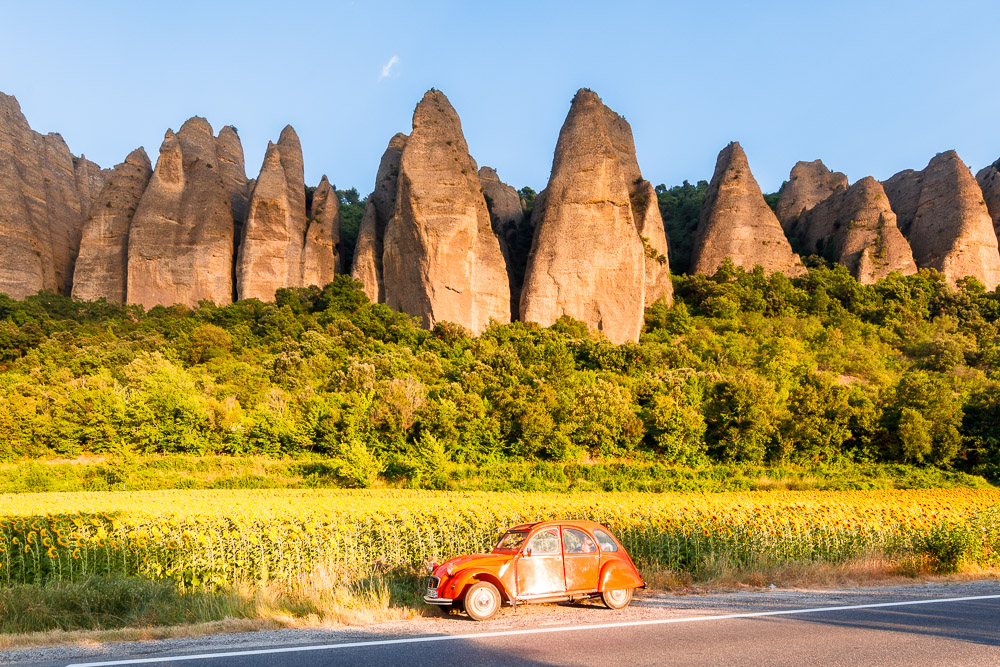 Digne-les-Bains
At the confluence of the rivers Bléone, Mardaric and Eaux Chaudes, the capital of the Alpes de Haute Provence is a small town surrounded by the Pre-Alps. With 17,000 inhabitants, it is one of the smallest prefectures in France.
To see: the UNESCO Geopark of Haute Provence which is the first world Geopark recognized by UNESCO. There are a large number of fossils dating back several hundred million years when the region was under the oceans.
Digne-les-Bains is a spa resort :
The town benefits from resurgent waters with multiple healing virtues.  Gushing out at 50° at the exit of the borehole, they are highly mineralized.  At the same time chlorinated, sulphated and calcium, they are recommended for the treatment of respiratory ailments (ideal for asthmatics) and rheumatology.
Digne-les-Bains and its lavender :
It is also the historic lavender capital of Haute Provence thanks to its central geographical position. It was in Digne that prices were negotiated between the producers and the perfumers of Grasse. This took place during a Lavender Fair. Moreover, the tradition continues to this day. The latter came in September and bought almost all the production of lavender extract. Finally, Digne is the forerunner of one of the oldest and most traditional "Corso de la lavande". Lavender still holds a central place in the life of the locals who are very attached to it.