Hokkaido and the legend of the best snow in the world
I've always been fascinated by Hokkaido, the Northern Island of Japan. Indeed, I heard that the snow was unique: more smooth, softer and lighter than anywhere else in the World. As a skier and snowboard, I wanted to test it and check if it was true. It was one of the reason why I came to discover Hokkaido. Moreover Hokkaido appears to be a kind of remote island at least in term of atmosphere very different from the crowdy Tokyo and Osaka or touristy Kyoto. This is also a must go for landscape photographer, and especially in winter. I will explain why in my article.
Regarding the snow, the legend is actually true! When I first land in Sapporo, I touch it and I realized it was different from the snow in Europe or North America for example. It was so soft and light! Then when I went for snowboarding in Asahidake, I also noticed that even on a flat slope, I was sliding! The powder snow is just amazing and it was so comfy to ride the slopes.
There is actually a reason why the snow is different in Hokkaido and more generally in Japan. The chemical structure of the snow crystal is actually different. They are bigger. Japan and Hokkaido are actually Islands surrounded by the seas and the salt is the reason of this difference.
Day 1: Sapporo
Sapporo is the Capital City of Hokkaido and the 5th biggest city in Japan with 2 million people. Sapporo in winter is welcome for its Sapporo Snow Festival but I missed it since it's in February and I came in January. Sapporo is not the most impressive city in Japan but I was very surprised to discover a big Japanese City under a massive cover of white and immaculate snow.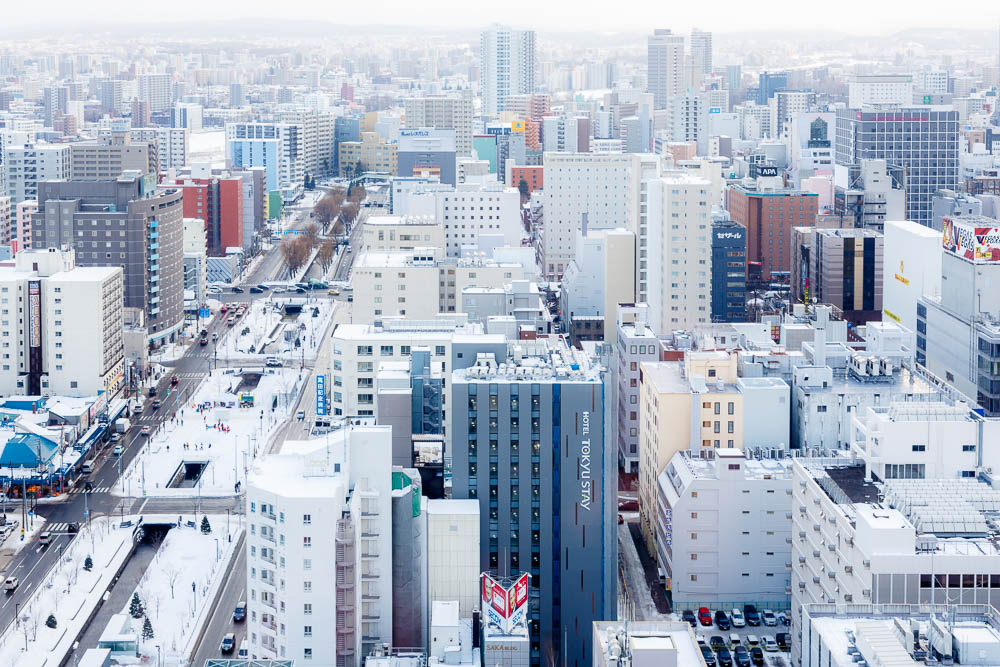 Day 2: Furano and Biei
Furano is the small city right in the middle of Hokkaido. It is well know for its ski resorts and also for curry! Biei is a place nearby famous for landscape photographers, especially in winter (but also summer with lavender fields). This is where you will find also the blue pond but don't go there in winter because the pond will be freezed and covered by the snow. The best period is may be with the very first snow in November when we can see both snow and blue pond.
Day 3: Asahikawa and Asahidake
Asahikawa is the second largest city in Hokkaido with 350,000 people. It is said to be the best place in Japan to eat Ramen. This is where I realized how the snow has so different because it was sticking everywhere on the streets as you can see on the photo bellow. This is a perfect city to make unique photos with permanent snow covering everything.
Asahidake is a mountain where you can ski with a unique ropeway and two slopes. This is where I tried the Japanese snow powder with a snowboard. Off-piste skiing is great there but since I didn't know the place I was scared to get lost. It is not touristy yet and the facilities are very limited but I was surprised to meet  French group of skiers from Tignes and Val d'Isere who came on purpose to experience this unique snow!
Day 4: Noboribetsu
Noboribetsu, South West of Sapporo is well known for Jigokudani, or the Hell Valley. This is biggest hot springs spot in Hokkaido and one of the main one in Japan. You feel like to be in Iceland there or in Yellowstone National Park in North America.
This is also the perfect place to enjoy one of the biggest Onsens in Japan. They are very famous in Asia and there are a lot of tourists especially from Japan and China.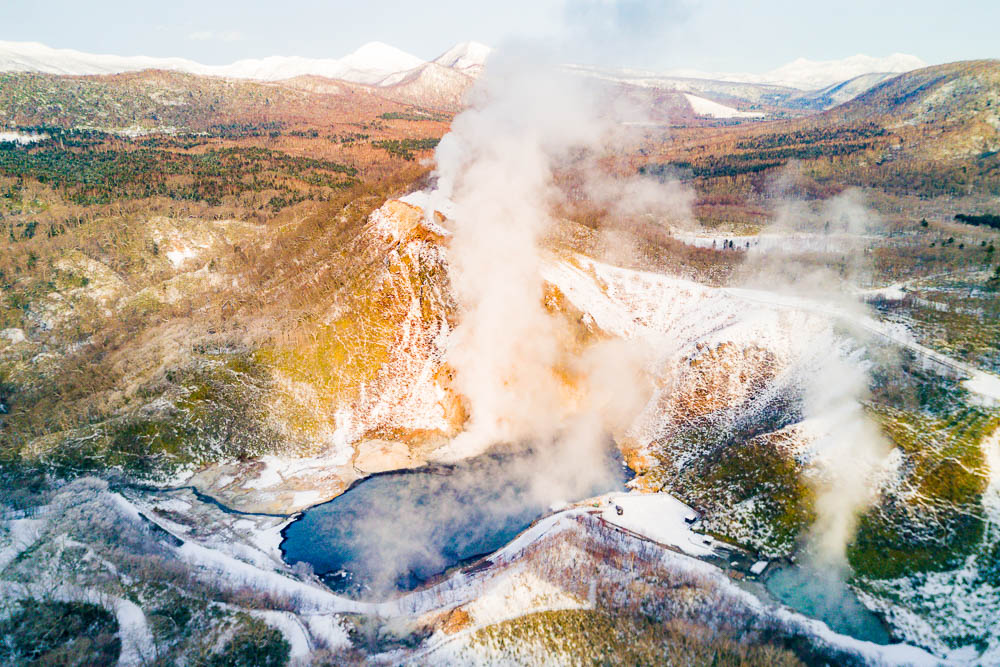 There is also Noboribetsu Date Historic Village, where you can attend Ninja performance. This place looks like a small thematic amusement park.