Wartburg Castle in Thuringia, central Germany, was built in 1067.
This castle has the originality of being an architectural mille-feuille of several eras. It was inscribed on the UNESCO World Heritage List in 1999 as "an outstanding monument of the feudal period in Central Europe linked to cultural values of universal significance". 
The Wartburg Castle is also an important place of pilgrimage in Germany, as it was here that Martin Luther translated the Bible.
Because of its location in the center of Germany and its history linked to Lutheranism, it is not well known in Latin European countries with Catholic roots such as France.
Exterior of the Wartburg Castle
An overview of the exterior of Wartburg Castle highlights its architectural mille-feuille side.
Aerial view of the Wartburg Castle
View of the keep and the main facade
The inner courtyard of the Castle
The architectural superimpositions in the inner courtyard of the Castle, mixing the Middle Ages and the Renaissance, are quite understandable.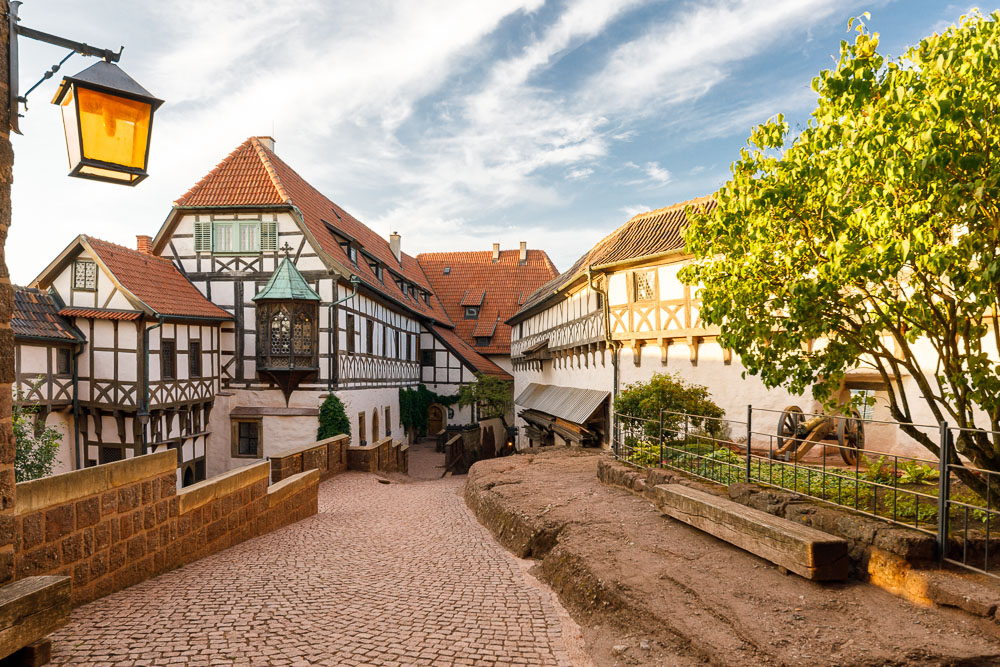 Inside the Castle
The inside of the Castle can be visited, it is very rich in history. One can find the office where Martin Luther finished translating the Bible. There is also a mosaic fresco made in 1905 by August Oetken and representing William II, the last German emperor.
Photo Tips
Best times to take pictures at Wartburg Castle
Time of day: the castle is on a hill overlooking the landscape. So you can take beautiful pictures at both sunrise and sunset. The façade of the main entrance of the castle is lit in the morning.
Season: in spring and summer, the color green predominates (as on the pictures). In autumn, it must be beautiful with the yellow/orange colors. I could see some incredible pictures taken in winter under the snow, this is definitely the moment I will come back!
Material to take
Objectives: the wide angle is essential
Drone: the castle as well as the adjacent hotel are private. Authorizations are therefore necessary.
Spots to be photographed
The view of the castle in front of the main entrance (cover photo)
Interesting views can be taken from the top of the towers.
To get there (from Paris)
Train: 12h
Car: 8h
Plane: 1h (Frankfurt) + 2h by car