First of all, if you want to make the same photo as I made and have the best experience of Japan in autumn during koyo and momiji period, you can come with me!
Indeed, I organize photo tour in Japan! I lead a group of 10 people who want to discover Japan during Koyo season and make the best photos possible in the best location and best time. I have started last year and I will run the photo tour every year in the second half of November. You can Click here if you want to know more and join the next tour in November 2020:
Autumn is probably the best season to visit Japan for three main reasons
This is Koyo season (colorful leaves) and especially Japanese maple leaves get red. It is called Momiji.
The weather is usually good. The sky is dry and clear and the temperature still warm enough.
Despite, this is a touristy season, it is less touristy than Cherry Blossom season and lasts longer
Koyo and Momiji in Japan is usually between mid October in the north and the mountains to beginning of December in Tokyo or Kyushu. In the main touristic places such as Kyoto and Fuji, the best period is mid to end of November.
Momiji peak (it means when maple leaves are fully red and not already fallen) only lasts few days. During these days, it can be very crowdy in the most touristic places like temples in Kyoto.
Accordingly to the Momiji agenda, I would advise you to start in the Japanese Alps then go to Fuji and finish in Kansai (Osaka, Kyoto, Himeiji, Nara), The recommended time to visit Japan during momiji in autumn is 15 days minimum to 1 month if you want to explore different regions.
My top 10 is just an overview of what you can see in Japan during Momiji and Koyo. There is much more to discover. In my selection, I have excluded public parks where we cannot see typical Japanese landmarks such as temples, castles and iconic landscapes.
You can find the forecast of Momiji peak on this website
Nikko: lake Chuzenji
Estimated time: End of October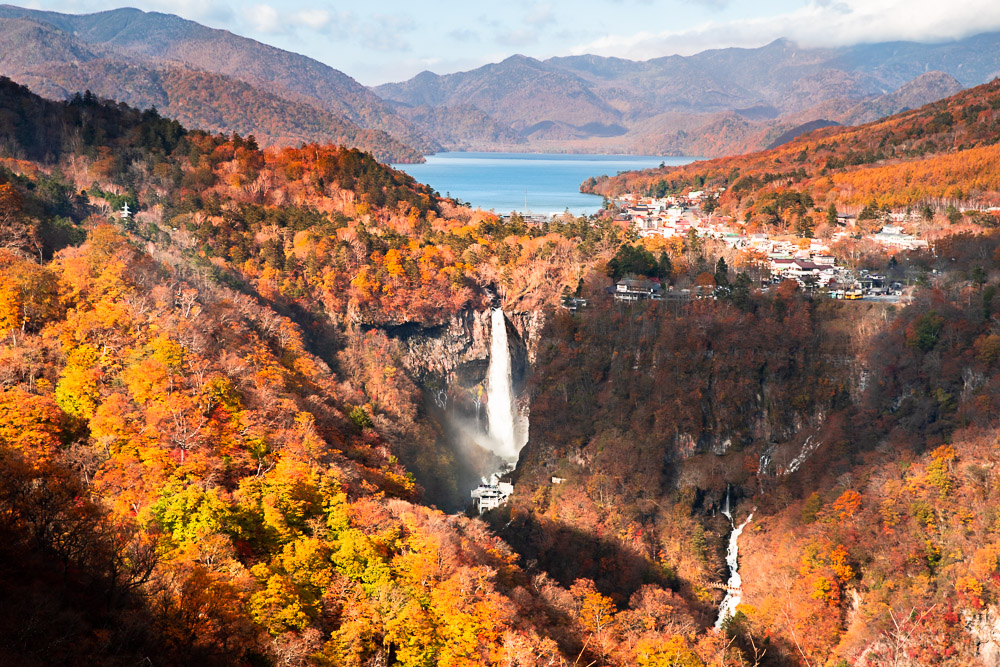 If it happens you are too early to catch Koyo and Momiji in Kyoto and Tokyo, you will probably have the opportunity to enjoy it in Nikko which is 2h north of Tokyo and in the mountains.
The best period in Nikko area and especially Chuzenji lake is end of october. Chuzenji Lake is 1400m elevation high so leaves are changing colors earlier.
The Temple area with UNESCO shrines and the famous bridge is more down in the valley and Momiji is usually one week later.
You can also read my detailed article called Momiji in Nikko about Nikko with more info and location to catch Momiji.
Mastumoto Castle
Estimated time: First week of November
Matsumoto Castle is my favorite castle in Japan. Matusmoto is in the middle of Nagano Prefecture and 3h by train to Tokyo, surrounded by Japanese Alps. 
In autumn, the park of the castle is beautiful with maple trees (Momiji). The best period to go there is the first week of November but it can change depending on the weather.
Fuji: Lake Kawaguchiko
Estimated time: Second week of November
Here is the famous view of Mount Fuji with Momiji and the Lake Kawaguchiko!
The best period to get momiji around Mount Fuji is the second week of November. Peak Momiji is first at Chureito Pagoda which is in Fujiyoshida, and then along the lake Kawaguchiko. There is a nice Maple trees corridor to see also especially at night with lights but it's a little later.
If you want to make good photo of Mount Fuji framed with Momiji, you need to find the best location. Maple trees in lake Kawaguchiko are mostly located on the north side of the lake, after the Maple trees corridor.
Kyoto: Arashiyama
Estimated time:  End of November
Arashiyama (the river Arashi) is located one hour south west from Kyoto station. You can go straight there with JR Saga line.
This place is famous for the Bamboo forest, many beautiful temples with momiji also and the river.
If you want to visit the Bamboo forest during momiji, I strongly advise you to go very early at dawn, even before sunrise. This place is very quiclky overcrowded afterwards.
Regarding the river, if you want to make a photo like mine, the best time is in the morning around 9AM to 11AM. To find nice maple trees you just need to walk along the river!
If you want to know the best spots, just send me a message 😉
Kyoto: Daigo-ji
Estimated time:  End of November
Daigo-ji is a beautiful temple full of Momiji and a bit out of the tracks located in the south east of Kyoto.
This temple it is not very touristic so far. You actually need approximately 1h to go there from Kyoto station.
The best time to go is in the afternoon before sunset. 
It will cost 1500 Yen to visit the temple with a combined ticket with another temple and a museum. It is not possible to visit the temple only. 
Kyoto : Eikan-do
Estimated time:  End of November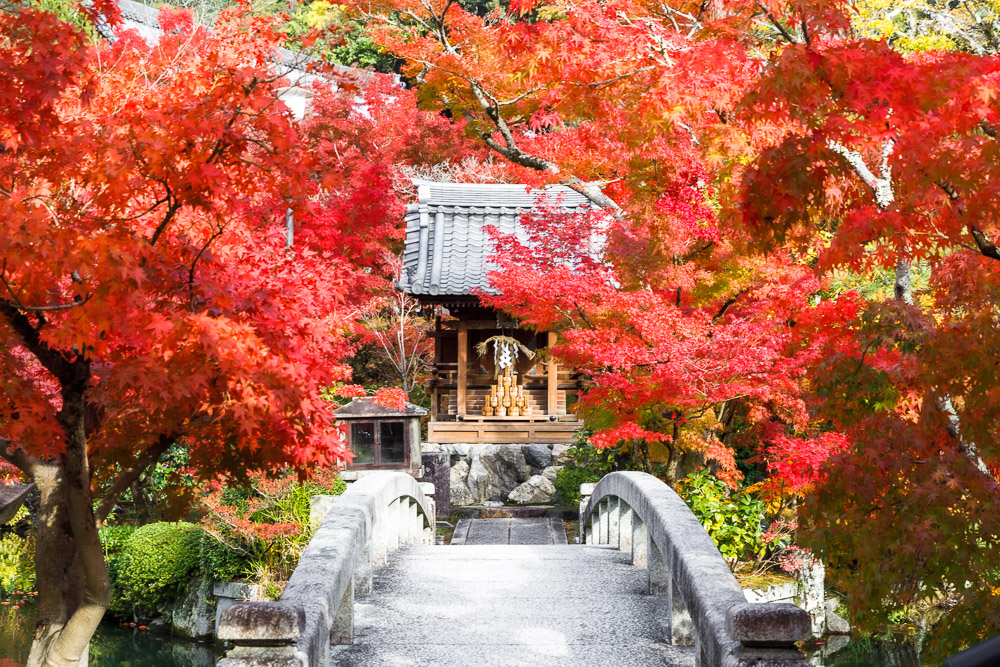 Eikan-do Temple is very popular during Momiji because the garden of the temple is full of maple trees!
This temple is a bit north of Gion, in the east part of Kyoto. Since it's easily accessible, it can be very crowded. I advise you to go there at opening time in the morning to enjoy it properly.
Kyoto : Kinkaku-ji
Estimated time:  End of November
Kinkaku-ji, the golden pavillon is one of the most iconic temple in Kyoto. 
During Momiji, this temple is interesting to visit since there is a couple of maple trees to make nice framed photos.
This temple is very popular. However, I advise you to visit it just before closing time and sunset around 4pm. The light is amazing and most of the crowd is gone.
Nara : Nara park
Estimated time:  End of November
Nara park is a place where you can see a lot of deers wandering freely. It is also fully of momiji in autumn. 
The best time to catpure them is almost as always early morning just after sunrise.
Himeji: Himeji Castle
Estimated time:  End of November
Himeji Castle is the most famous castle in Japan. There are a lot of colorful trees around Himeji Castle. I advise you to walk around the walls of the Castle.
There is also a nice Momiji Park to visit (entrance fee is 500 Yen). There are lights in the evening as well.
If you want to know more about Himeji castle, you can read my detailed article about it.
Osaka: Katsuo-ji
Estimated time:  End of November
Katsuo-ji Temple is my hidden gem for momiji in Japan. It is about 1h30 from Osaka in the north. You need to take 2 trains and then a bus! At the end, you will be granted with a beautiful temple with a lot of maple trees, but also steam water on the pond. This templs is also famous for its collection of damura (typical Japanese dolls).