Presentation of the old town of Lübeck
Lübeck is a city in northern Germany. It was the capital of the Hanseatic League, i.e. belonging to the league of northern European merchant cities (such as Hamburg and Bremen). They controlled the trade around the North Sea and the Baltic Sea during the Middle Ages and the Renaissance.
The medieval Old Town of Lübeck is a UNESCO World Heritage Site, not least because of its typical red brick architecture.
For the record, Lübeck was French under Napoleon. Indeed, it was the sub-prefecture of the French department of Bouches-de-l'Elbe.
Photograph the old town of Lübeck
The Holstein Gate: entrance to the old town of Lübeck
Symbol of Lübeck, this monument is one of the two gates of the remaining medieval fortifications.
The facade of the gate on the entrance side of the old town is easy to take a picture from the square. The other facade is interesting to take a picture from the bell tower of St. Peter's church (but I couldn't go there because of Covid-19 restrictions).
Saint Peter's church and the banks of the river Trave
A walk along the Trave River gives you an idea of the architectural harmony of Lübeck's Old Town. St. Peter's Church dominates this ensemble. You can reach its bell tower and contemplate the city from above.
Lübeck Cathedral and its Old Town
Lübeck Cathedral dates back to the 12th century. It is the oldest building in the city. The surrounding area is also worth a visit. In spite of the bombings of the Second World War, there are still many typical medieval houses (recognizable by their large sloping roofs). You can easily get lost in the small streets and alleys of this very colorful and photogenic district.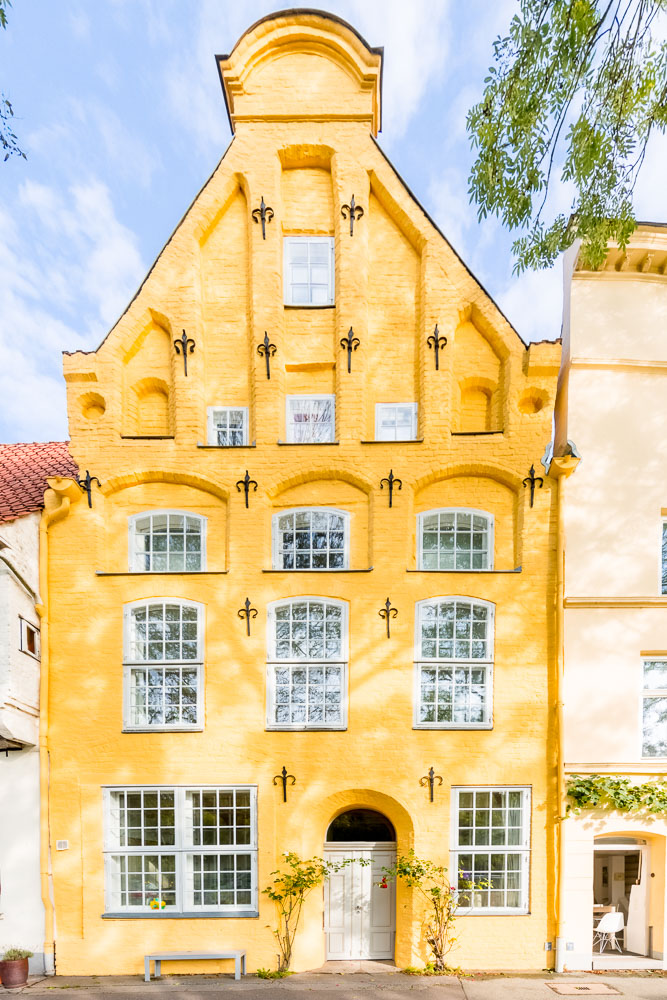 Photo Tips
Best times to take pictures
Sunrise on the Holstentor square: I didn't have the right conditions to do it, but the sun rises just in front of the old town and the Great Gate. So there are some pictures to take!
Sunset: along the Trave and in front of the Holstentor gilded by the setting sun
In the evening: beautiful night lighting on the Holstentor and in the old town of Lübeck
Photo material to be taken
Lenses: from wide angle to telephoto, Lübeck takes pictures according to your ideas and framing.
Drone: I was able to use my drone for my report thanks to an authorization. It is not possible to fly your drone otherwise in Lübeck.
Tripod for night shots
Photo spots in the old town of Lübeck
Place de la Holstentor sunset and sunrise)
The view from St. Peter's church (which I could not do because of Covid-19 restrictions)
The small alleys and alleys of the cathedral district